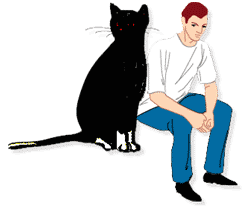 Want to date the cat?

apparently some men do. Sure, our cat is quite attractive, but she is still a cat.
We placed an ad on a personals site to see if anyone out there would want to date our cat. So far we have got TWO responses, both of which are displayed below.





*****************************************************


Your mailbox number is: 562310

Simply hit reply to reply to this message.

The message follows:

Interesting Kissing Booth ad & picture. I have neither an ad nor a picture posted (yet), but I will describe myself for you a little...hopefully enough to prompt a response (in which case I can email you a picture).

So....I am 28 years old, and live in Manhattan, where I was born and raised. I am a white jewish but not religious male, 5'7'', 200 lbs, brown hair, and green eyes...athletic and pretty cute (someone told me once). :)

Anyway, for the past 4 months I've been working for an Internet startup called Blink.com. I really love the job, but it seems to occupy too much of time and emotional energy. Maybe that is why I lurk about a site like this and come across your ad.

Alright, I've babbled enough for the moment. I hope to hear from you!

Bye for now,
Ed


*****************************************************



the next one is a little hard to believe
after all the attention Mahir, the "I KISS YOU!!!" guy got.
But, I swear I got this in May 1999.



Sent: Thursday, May 20, 1999 5:28 PM
Your mailbox number is: 562310

Simply hit reply to reply to this message.

The message follows:

Hello, So you are a real looker good just my type.
So, whats makes you think you would want to leave a lone. I do here you loud and clearly. One thing, I do respect alone time. Besides if there is no trust if won't work. I am not the type to be up your ass every minute. Nor do I expect you to be up mind. My name is Rchard. I am six feet tall with a strong sexy muscular body. I have hazel eyes and brown hair thats a little long. I am a handsome well mannered gentleman who knows how to treat people especially girls. I enjoy a real good job and a great ife. I am a thirty nine year old who looks twenty nine. I have never been married and I don't have any children.I am looking for a really good looker who has a easy going personality for good times.You did the hard part by letting me know you existed. The easy part was to respond since it seems like you are looking for me.Time......Richard
*** Thanks for using Talk City Personals, the net's largest online meeting place!




*****************************************************



I actually wrote him back...



Dear Richard,

Thank you for responding to our ad. we were so excited, but I hope you realize that the girl is a.... cat.
feline.
cat.
housecat.

we have read your description to her, but she (unfortunately) did not seem too interested. she just stared at the wall. do you have a wool sweater? she likes those.

so, i'm sorry that we will not be able to make a "love connection", but i wish you luck!