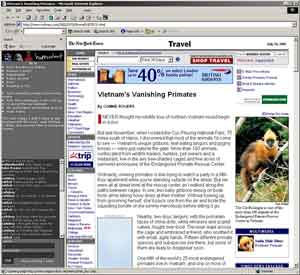 The Nutty Robot Side Bar Thing




A great way to use the Robot Chat feature and stay updated to what's going on in the robot land - the following links will allow you to have a custom happyrobot 'side bar' tab thing-a-ma-jig on your browser.

It's easy! It's Free! It's kinda cool!


Internet Explorer 5 +
If you are using Internet Explorer 5.0 and higher, use this link:
robot sidebar
The best way to do it is to click and drag the link up to your 'Link' toolbar (assuming you have removed all that MicroSoft stuff they put in there for you)

Mozilla
If you are using Netscape 6 or Mozilla 1.0 (or higher), use this link:
happyrobot sidebar

Mac IE Users
drag this link: happyrobot to your favorites bar.
Control-click it, choose "Target Page Holder."