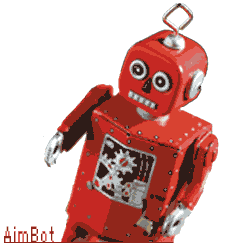 this is our AIMBOT.
he is a chat bot that is on aol's instant messenger program. you can talk to him by IM'ing thehappyrobot. he can be cranky sometimes, so beware.

these are our logs of his conversations with usually real live humans. the AIM user names have been changed.


please feel free to chat with him. he is a real live robot that is usually working and on and waiting to talk to you! yes, you.

you can get your own robot from the nice folks at RunABot.com.